You are here: Home > PRODUCTS > Condensing Unit >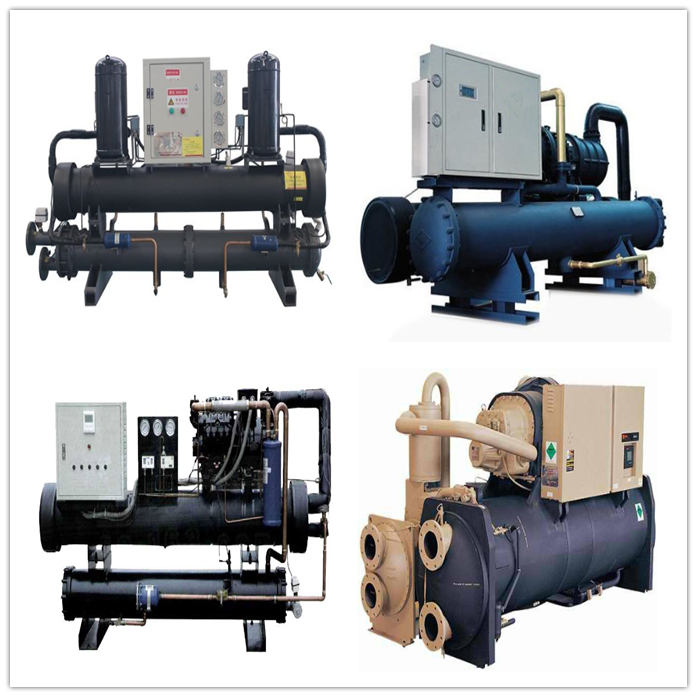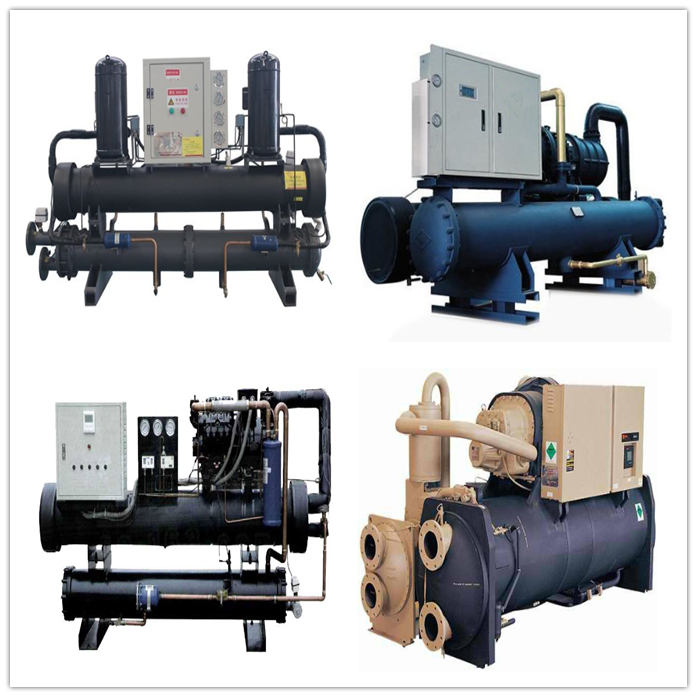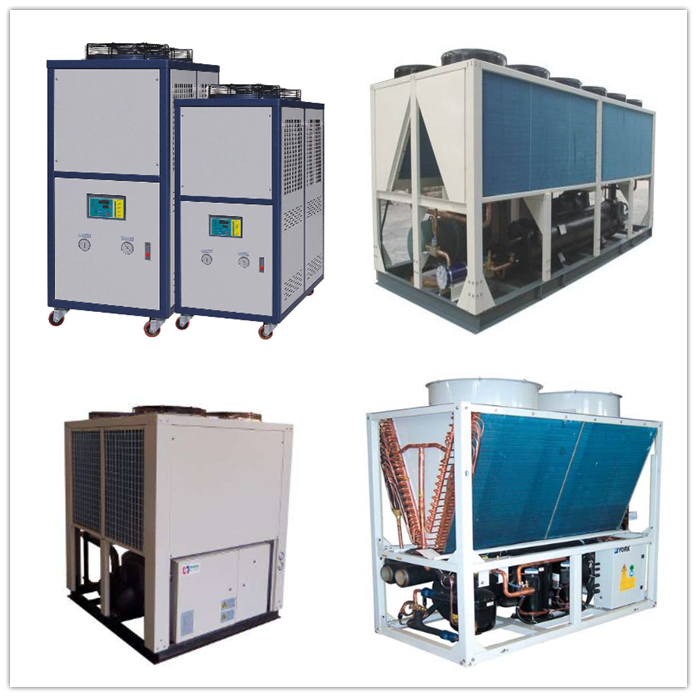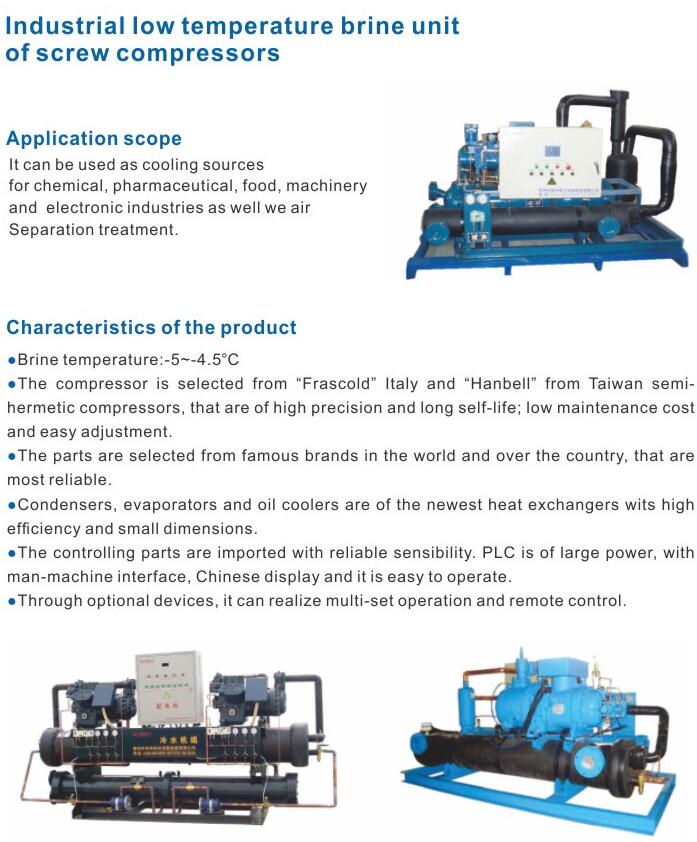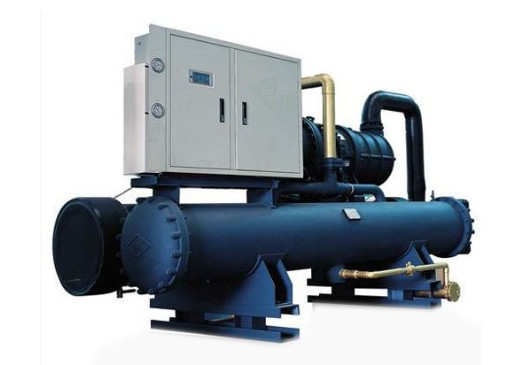 Screw Compressor Water Chiller
Type: Screw Compressor Water Chiller
Description:
1. Our compressor is world brand,Bitzer/Hanbell/Fusheng/Frascold Screw Compressor, high-quality built-in safe protection, with low noise, the electricity of province is durable.
2. Cooling capacity range: 30HP to 500HP

3. Normal conditions: Chilled water inlet temperature is 12 degree, outlet temperature is 7 degrees. Cooling water inlet temperature is 30 degrees, outlet temperature is 35 degrees. But the lowest temperature can be -25 degress.

4. Stardard Input power: 3P-380V-50Hz, Allowable fluctuate voltage: ± 10%, allowable voltage difference in phase: ± 2%,Can also be customized according to customers'request

5. The quantity of compressor can be one or two ,each compressor is independent refrigeration system. Each other run independently.when the one is working ,the other can be working or not.

6. Use PLC microcomputer control from Germany Siemens LCD touch screen, both English and Chinese human-machine interface.

7. Wide range of variable chilled water temperature to meet the industrial requirements throughout whole year.

8.Our standard refrigerant is R22, but you can choose to use environmental refrigerant such as R407C , R134A or R507.


Screw Compressor Air-cooled & Water-cooled Water Chiller

​Water Chiller Feature:

1. Twin screw compressor & piston compressor is world brand with high efficiency, low noise level, less wearing and long operation time.
Bitzer,Frascold,Copeland,Danfoss,Hanbell,Fusheng.etc.
2. Four stage volume control or 0%-100% automatic regulation.
3. Use PLC microcomputer control from Germany SIEMENS. LCD touch screen, both English and Chinese human-machina intertace.
4. Complete breakdown protection: high and low pressure protection, air discharge protection, oil level protection, water flow protection, reverse and lack phase protection, chilled water anti-freezing protection, cooling water overheat protection.
5. Wider range of varibale chilled water temperature to meet the low temperature industrial requirements.

Product options
1. Salt water evaporator
2. Stepless energy regulation
3. Pump/Cooling tower control
4. Special power supply
5. Remote communication connector

Product specfication

Refrigerant: R22/R407C
Evaporator max water pressure drop: 1.0Mpa
Evaporator: fouling factor 0.018m2.℃/KW
Condenser: fouling factor 0.044m2.℃/KW
Power supply: 380V/3P/50Hz
Allowable voltage fluctuate: ±5%
Allowable frequency fluctuate: ±2%

Compressor

Select semi-closed 5:6 asymmetric twin-screw compressor from world-renowned brand. The possibility of shaft seal leakage is zero. Using a rotating exhaust design, the lastest development of the fourth generation line, optimize the circumference speed, excellent design of gear so that the unit has higher compression efficiency. Motor chamber compression chamber integrally cast, high precision. Double pressure compensated rotor housing, very strong, no expansion even in the state of high pressure, and it effectively reduces the noise.

Heat exchanger

The condenser and evaporator of this series unit adopts shell and tube heat exchanger, using new high efficient heat exchanger structure. Heat exchanger adopts the most advanced and effcient heat exchanger tube bundle with unique geometric characteristics and enhanced tube nucleate boiling required vaporization core, strengthen the fluid in the tube and delay perturbationat the same time, the water side fouling, heat transfer enhanment, the inside wall in order to get the best performace, comparade to the previous design, the unique design of the heat transfer efficiency is increased by 30%.

Evaporator evapotation tube with inner grooved on outer concave tooth enhanced heat transfer technology, condenser tube with inner grooved cutter teeth technology, improves the evaporator and condenser heat transfer efficiency and the evaporation temperature, and improve the energy efficiency ratio for the unit.

PLC

A good Chinese-English interactive interface is to achieve automatic control function before the LCD display real-time statues of the machine work, precise monitoring unit operating at optimun state, the touch pannel sealed, waterproof, dustproof, corrosion-resistant, long-key life. Equipped with cooling pumps, cooling water pumps and cooling tower fan interlock control function.

​Product Details.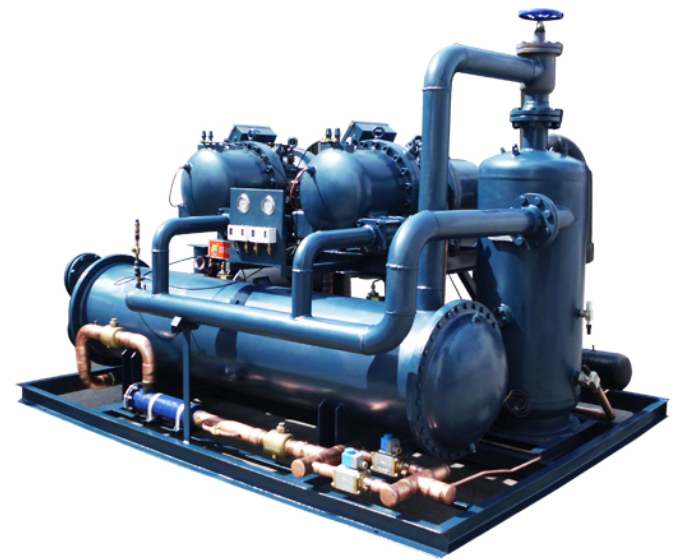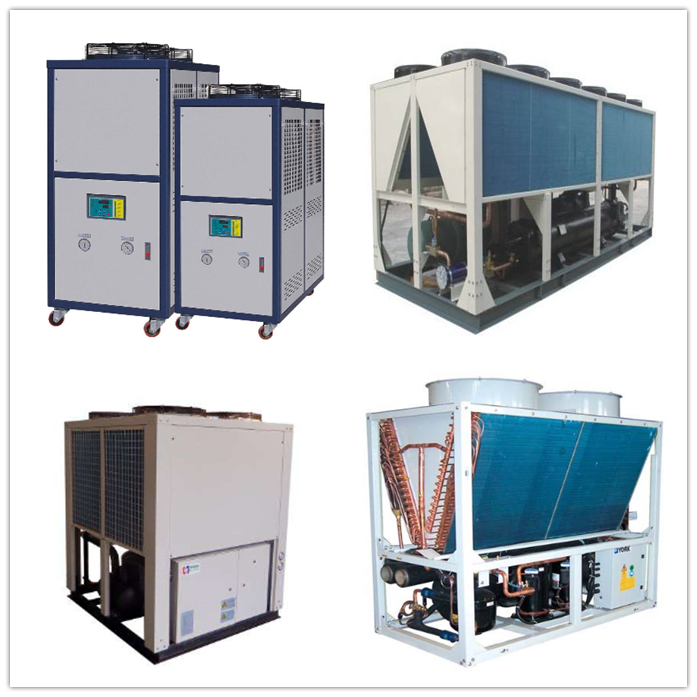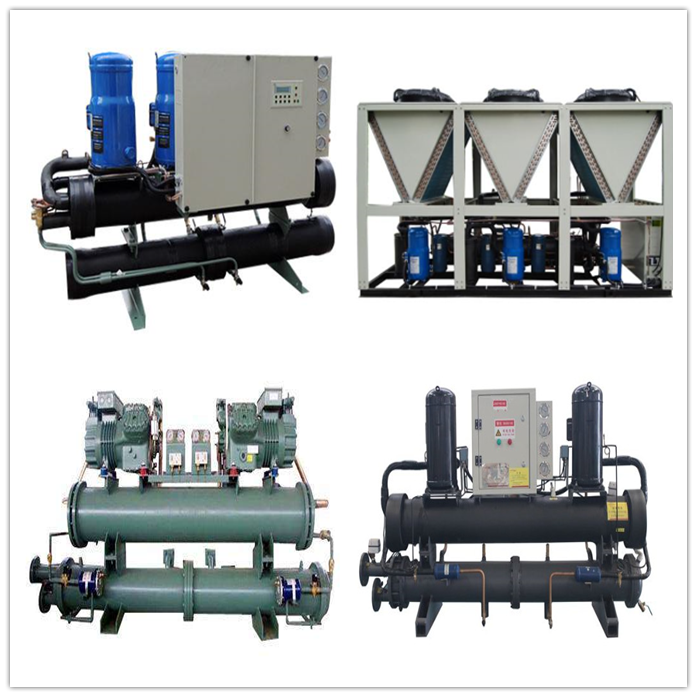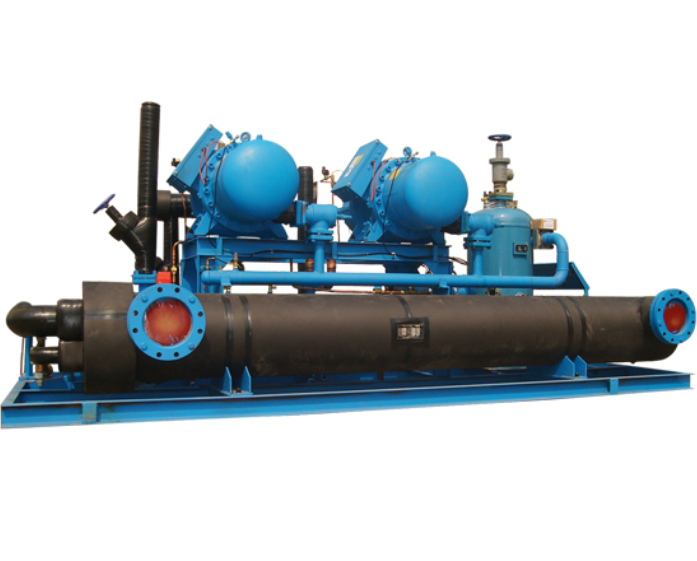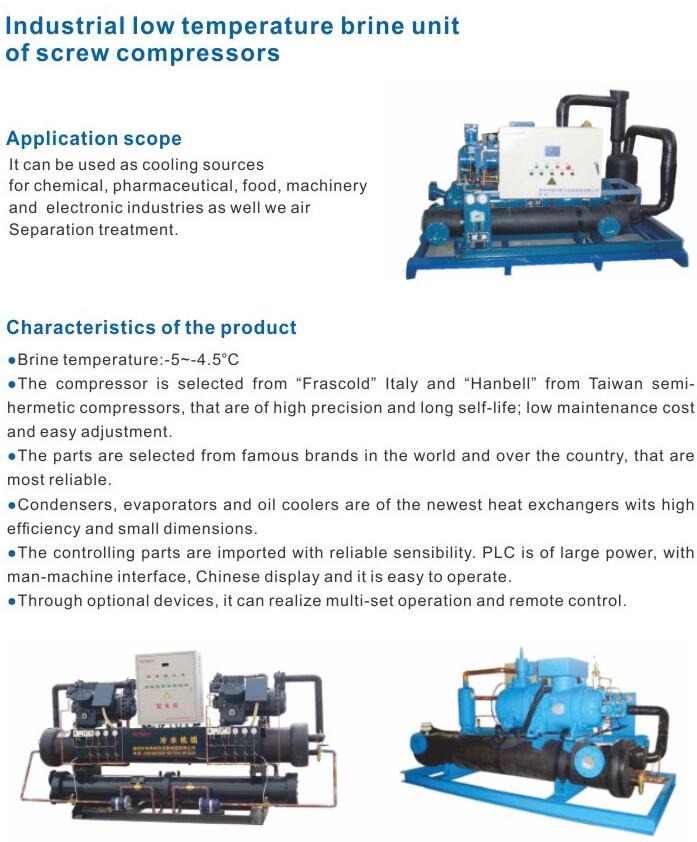 Screw Compressor For Water Chiller

Model

380Z

500Z

600Z

720Z

880Z

1000Z

1200Z

1420Z

Cooling Capacity

KW

376

496

594

720

880

996

1203

1419

Cooling Power Input

KW

124

159

187

234

285

318

381

466

Power Supply

380V/3/50HZ

Compressor

Bitzer/Frascold/Hanell/Fusheng

Compressor Type

Semi Hermetic Screw Compressor

Qty/Refrigeratant Circuit

Nr.

1/1

1/1

1/1

1/1

2/2

2/2

2/2

2/2

Engergy Adjust

/

25%,50%,75%,100% 4-Step(50% - 100% Stepless As Option)

Refrigerant

R22/R134a/R404A

Water Cooled Heat Exchanger

Type

Shell & Tube Heat Exchanger

Water Volume

m³/h

65.4

86

103.2

123.8

151.4

172

206.4

244.2

Water Prssure Drop

kpa

39

54

56

58

70

75

71

69

Inlet/Outlet Pipe Diameter

mm

DN125

DN125

DN125

DN150

DN150

DN150

DN200

DN200

Water Side Fouling Factor

㎡.℃/KW

0.086

Air Cooled Heat Exchanger

Type

M Shape Heat Exchanger.High Efficient Exchanger Tube+ Aluminum Fins

Fans Qty

Nr.

6

8

10

10

14

16

16

20

Air Volume

m³/h

23000x6

23000x8

23000x10

23000x10

23000x14

23000x16

23000x16

23000x20

Motor Input

KW

2.8x6

2.8x8

2.8x10

2.8x10

2.8x14

2.8x16

2.8x16

2.8x20

Physical Dimensions

Standard Dimensions(mm)

L

3810

4680

5880

5880

8800

9460

9460

11700

W

2280

2280

2280

2280

2280

2280

2280

2280

H

2370

2370

2370

2370

2430

2430

2430

2430

Shipping Weight

3320

4330

5000

5500

7750

8900

9100

11100

Shipping Weight

3520

4530

5200

5700

8050

9200

9400

11400

Sound Pressure Level

70

70

71

71

72

74

75

75

Notice:

1.Norminal cooling capacities are based the following conditions

Chilled water inlet/outlet temperature:+12℃/+7℃,outdoor temperature(DB/WB):+35℃/+24℃

2::The applicable ambient temperature range of R134a,Air-cooled screw unit is +15℃ to +43℃


Our Service:
1.Free repair within 1 year of guarantee on the condition of operate the machine in the right way.
2. Our factory provide machine testing when customer come to our factory to see this machine.
3.We provide detail machine technical specification, electric diagram, installation book, operating manual, drawings
4.We can provide engineers to customer's factory to help installation and training workers if customer required.
5.We offer OEM


FAQ:

How about the quality of your product?
· Our products manufactured strictly according to national and international standard.
· We have CE, ISO certification.
· We take a test on every product before delivery.
· How about the price of this product?
· We can give the lowest price than market one.
· We do quotation as soon as possible for any customer.
· Discount can be given according to quantity.
· What is the MOQ?
· 1 set.
· If you can be customized?
· We can make products according to customer's requirements.
· What is the voltage?
· 380V 50hz 3 phase or any other voltage according to client's requirement.